by N-PAX
Posted on 2023-11-07
---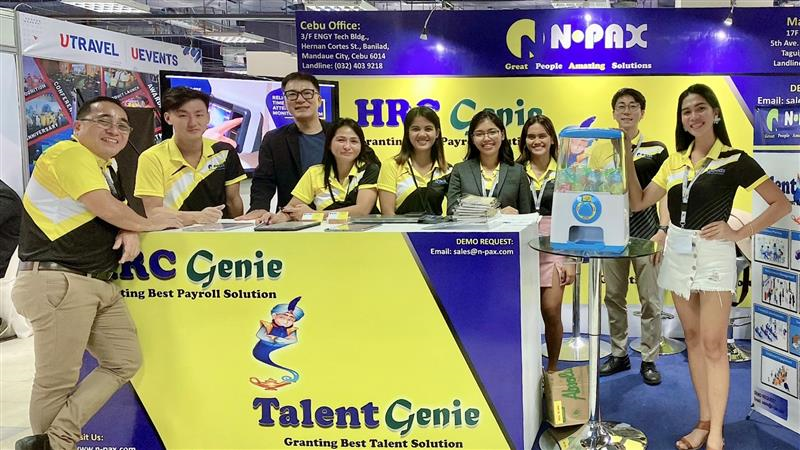 ---
N-PAX is delighted to have been an active participant in the 60th PMAP Annual Conference, held from October 25th to 27th, 2023. This event provided an engaging and insightful platform where the intersection of knowledge and innovation united, uniting HR professionals to shape the future of human resource and people management. We extend our heartfelt appreciation to the distinguished speakers whose knowledge and expertise enriched the conference. Our warmest thanks also go out to everyone who visited our booth, and congratulations to the fortunate prize winners! Your enthusiasm and support truly enriched our experience.
Take your HR endeavors to new heights! Contact us today to learn more!
Read More
---
by N-PAX
Posted on 2023-05-12
---
---
N-PAX is leveraging its 20 years of experience in the IT industry and its own expertise in software development and integration to partner with the market leader in enterprise software solutions. N-PAX gained Silver Partnership with SAP this first quarter of 2023. As a Silver Partner of SAP we have developed our own SAP consultants within our team so we can understand and cater to the needs of our potential customers to implement SAP in their organization. For more information about SAP products and implementation, please email info@n-pax.com.
Read More
---
by npax
Posted on 2022-10-04
---
---
One of our proudest moment this year, is when our company employees decided to perform a number for our customers in our first ever event after 2.5 years in BEAT 2022 in SM. I am reviving my music band, and look forward that you can subscribe and follow us in youtube. This is FINAL COUNTDOWN with a tinge of Cebu Sinulog Dance Beat.
Read More
---
by N-PAX
Posted on 2021-10-06
---

---
Upcoming Training Schedule:
We are holding two-day online workshop that covers an Introduction to Descriptive Analytics and Dashbording. This course aims to provide the necessary concepts and tools on how to properly handle, process, analyze and interpret data. We will also intoduce the participants to N-PAX BI Cloud powered by MotionBoard, a top market solution in Japan developed by WingArc 1st Co. Ltd.
For more information about MotionBoard
https://www.wingarc.com/en/product/motionboard/index.html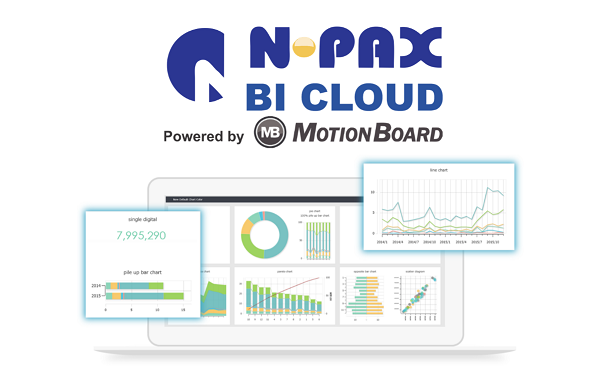 The online workshop will help the participants on how to appropriately analyze data and create effective dashboard reports. It will generally improve the analytical literacy and skills of participants. The online workshop is an interactive training in which participants will have hands-on training. All participants will be given a one-month free trial of the MotionBoard Dashboard Tool.
To download the full Course Description please click this link: Descriptive Analytics Course Outline and Program
Upcoming Training Schedule:
Past Trainings:
Oct 27 to 28, 2021
Sept 29 to 30, 2021
May 26 to 27, 2021
June 23 to 24, 2021
July 28 to 29, 2021
August 25 to 26, 2021
Read More
---
by HRC
Posted on 2021-10-22
---
---
Description
Transforming your workplace into a data-driven culture is a momentous challenge by any business managers & leaders. Driving & guiding your organization into a culture that will adapt & succeed the NEXT Business Normal, is what we aimed our participants should learn & understand.
Outline
1. The Pandemic Crisis Learning Curve
2. The Human Adaptability Quotient (AQ)
3. The NEXT Normal
4. The Age and the Edge of DATA
Date Time
November 3 2021 1:30PM-3:00PM
Read More
---
by N-PAX
Posted on 2021-10-05
---
---
Description
The webinar aims to provide an overview of Business Intelligence and discuss the advantages of deploying these solution in an organization. This will help the participants evaluate their own organization analytics maturity and potentially improve their business strategies and goals.
November 4 (Thursday) 2021, 1:30PM-3:00PM
Language - English
Price - Free
Zoom Webinar Registration Link
Outline: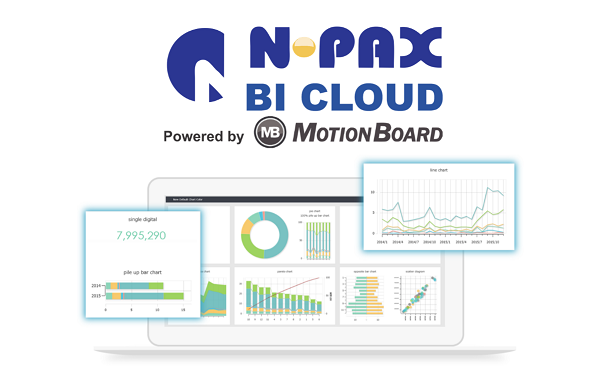 Overview of Business Intelligence
Analytics Landscape
Architechture of BI Dashboards
Benifits of Solutions
Read More
---
by N-PAX
Posted on 2020-11-09
---
---
A new partnership with N-PAX Philippines, Inc., the Philippines-based Software Company – WingArc1st provides MotionBoard to be embedded in human resource management system as well as data analytics and training services
TOKYO, November 2020 -- WingArc1st Inc. (WingArc1st), the Data Empowerment Company, today announced that WingArc Singapore Pte. Ltd., a local subsidiary in Singapore, and N-PAX Philippines, Inc. (N-PAX), Philippines-based software company, have entered into a business partnership agreement.
With this agreement, "MotionBoard", a BI (Business Intelligence) tool provided by WingArc1st, will be embedded to human resource management system "Human Resource Companion (HRC)" and data analytics and training service "Advanced Analytics" that are provided mainly in the Philippines by N-PAX.
Headquartered in Tokyo, WingArc1st develops and distributes products that manage to hold top market share in Japan for Business Form Infrastructure Solutions as well as the Data Empowerment Business with BI tools.
Expanding their businesses overseas, WingArc1st has always regarded as one of the growth strategies. They have established WingArc Shanghai Inc. in 2009, WingArc Singapore Pte.Ltd. in 2014 and they have also acquired "Space-Time Research," a company based in Australia specializing in BI tools for Australian Bureau of Statistics, in order to strengthen their businesses in Asia-Pacific.
N-PAX was established in the Philippines in 2002. Partnered with various global companies, they have been developing and distributing software products mainly for the Philippines and United States. Human resource management system "Human Resource Companion (HRC)" and enterprise resource planning system "N-XPERT Enterprise Resource Planning Software (ERP)" in particular have been chosen by a large number of corporations.
With Advanced Analytics department, which was newly established in 2019, N-PAX aims to provide skills to properly explain and visualize data, and the ability to analyze any given situations correctly and to construct hypothesis for further improvement in any given sites, targeting all users.
MotionBoard will be used as the dashboard building tool. The dashboard will be used to analyze data possessed by corporations. MotionBoard will also be used to create models for hypothesis testing, to automatically link business data with, as well as to provide data analysis trainings.
WingArc1st will contribute to the N-PAX's mission to "provide high quality IT services and innovative software products for the customers" and will support N-PAX's business in the Philippines market as a data empowerment company.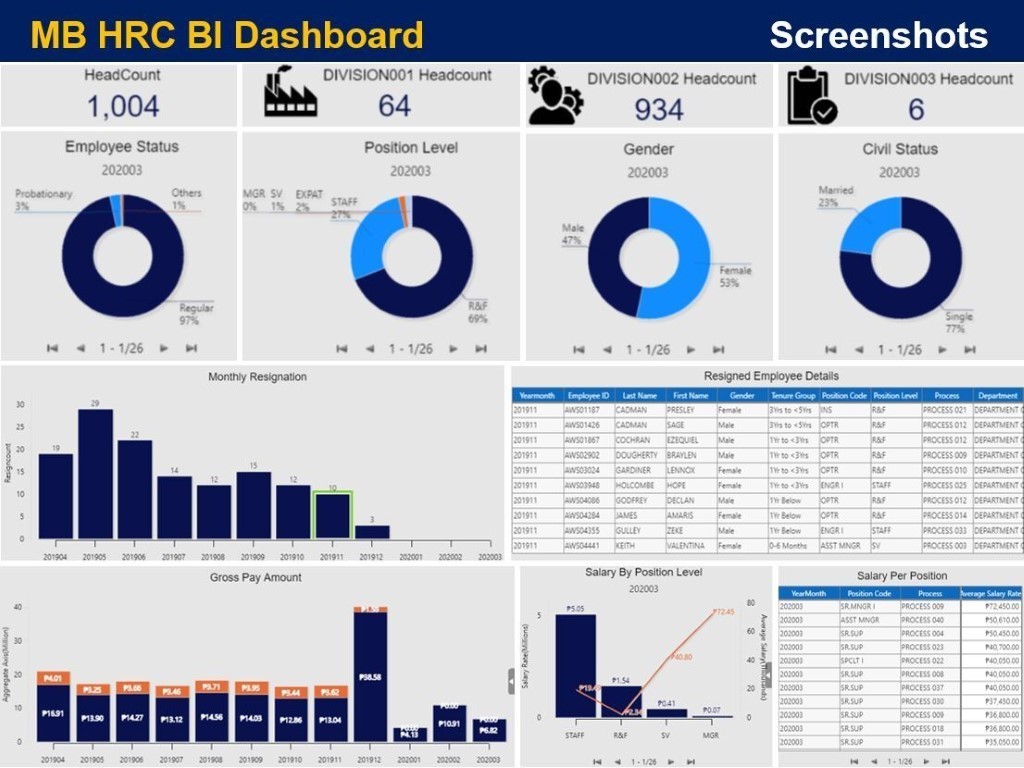 MotionBoard visualizes data of HRC
Quotes
Jun Tanaka, CEO, WingArc1st Inc.
We are very pleased to have forged a partnership with N-PAX, who has impressive achievement records for implementing data utilization solutions in the Philippines. We feel confident that innovative value will be born when N-PAX's expertise comes together with our technology. We are hoping that our MotionBoard will contribute to N-PAX's business as well as DX promotion in the Philippines.


Takahiro Toda, President and CEO, N-PAX Philippines, Inc.
We are very pleased with the business partnership with WingArc1st. A huge amount of data is being generated day by day from corporate activities and our mission is to turn data into value. We are certain that N-PAX's Advanced Analytics department and MotionBoard by WingArc1st will help a great number of our customers.
About N-PAX Philippines, Inc.
Company Name: N-PAX Philippines, Inc
Established in 2002
President: Takahiro Toda
Business Overview: Development and sales of BtoB software including human resource management system, enterprise resource planning system as well as consulting services, such as providing comprehensive support related to data utilization for corporations.

Contact on Products and Services:
WingArc1st Inc.
Roppongi Grand Tower, 3-2-1 Roppongi, Minato-ku, Tokyo 106-6235
TEL:03-5962-7300  FAX:03-5962-7301  E-mail:tsales@wingarc.com
Inquiry on This Press Release:
WingArc1st Inc. PR team: Yamamoto, Nakatani, Iisaka, Furusho
TEL:+81-90-5391-1510 (Yamamoto) +81-80-3006-2396 (Furusho)  E-mail:pr@wingarc.com
*Company names and products names enlisted in this Press Release are trademarks or registered trademarks of each company.
Read More
---
by N-Pax
Posted on 2020-09-29
---
---
Business Engineering Co., Ltd. "B-EN-G" headed by its President, Masanori Osawa, established a partnership with N-PAX Cebu a subsidiary of N-PAX Philippines, Inc. N-PAX Cebu's main business area is in the development and implementation of Enterprise Resource Planning (ERP) and Human Resource Companion (HRC) systems mainly in the Philippine Market.
The partnership has started in December 2017, when N-PAX Philippines, Inc. and Toyo Business Engineering Singapore, collaborate to introduce to the market a global accounting system McframeGA. The two companies are led by N-PAX's President and CEO Mr. Takahiro Toda and B-EN-G Singapore's Managing Director Mr. Motoshi Yamashita. These new capital ventures of Business Engineering Co. Ltd. "B-EN-G" with N-PAX Cebu will strengthen further the relationship between B-EN-G and N-PAX. Over the last seven years the Philippine GDP continues to grow with an annual growth of 6%, with this economic trend and the expertise of N-PAX in systems implementation of ERP, accounting and HR systems, sales and market share of McframeGA is expected to grow. N-PAX Cebu will also strengthen its technical support and sales from B-EN-G head office.
Business Engineering Co., Ltd. is a business engineering company with abundant experience centering on ERP, ranging from IT planning, business consulting for BPR implementation, IT introduction consulting to system construction services and operation services. In addition, we have accumulated achievements in global expansion support with five overseas subsidiaries in China (Shanghai), Thailand, Singapore, Indonesia, and the United States, and partners around the world.
In Photo from left: Motoshi Yamashita (B-EN-G Singapore MD), Wilson Ng (N-Pax CFO), Takahiro Toda (N-Pax CEO), Masanori Osawa (B-EN-G CEO), Jimmy Flores (N-pax EVP), and Ken Kitai (SEO, B-EN-G Global Business).
Read More
---
by N-Pax
Posted on 2020-09-29
---
---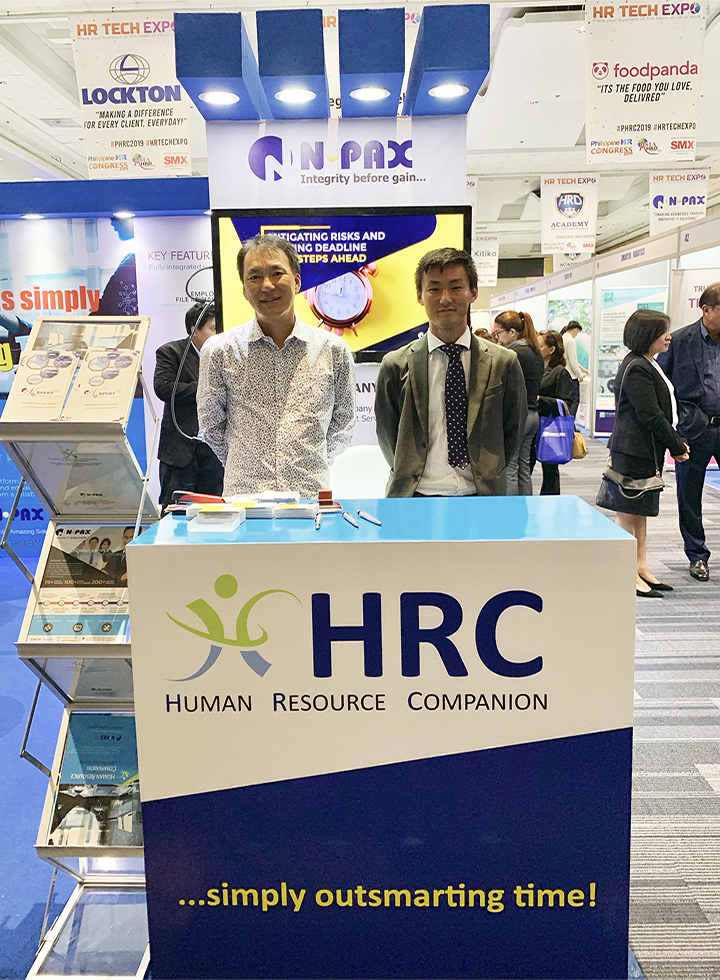 N-PAX was one of the exhibitors in the recently concluded Philippine HR Congress 2019 held last 22nd and 23rd of August at SMX Convention Center, Mall of Asia Complex, Pasay City, Philippines
One of the highlights of the event was the HR Tech Talk entitled Intersecting Crossroads of IT Solutions. Our very own Mr. Vernon Oro, General Manager of the HRC Division was invited to grace the session to talk about the importance of technology in the Human Resource Department.
Mr. Vernon Oro emphasized that technology in HR is already ingrained in their process from recruitment to retirement, and now is the time to harness data that are already there for key decision making process.
Read More
---